MODEL : RIG250 & 350 CNC:
These high precision CNC controlled Internal grinders are used for diverse Internal Grinding wide range of components. Modular design of these machines offer solution with straight & taper bore grinding operation.
BASE :
The machine bed is made of High grade Cast Iron structure which has high static and dynamic rigidity. The Structure design facilities are best for thermal and vibrational damping. The design facilities provide easy way to flow of coolant and grinding dust.
GRINDINGTABLE(Z·Axis) :
The table moves on V & flat bed with turcite guide ways. The table is driven by high precision pre-loaded ball screw directly coupled with servo motor by precision coupling. Dust proof guard is provided on X·Z axis slide to fully protect foreign dust particle.
WORK HEADSLIDE(X·Axis) :
Work head slide is made out of graded cast iron suitably ribbed for high dynamic and thermal stability. It moves on high precision oil lubricated LM guideways. The X-axis slide driven through! precision class preloaded ball screw. Ball screw is directly coupled with servo motor.
WORK HEAD :
It has a rigid universal work head. It has cartridge type spindle. Swivelling of± 10° is possible. Work head spindle runs with P-4 class antifriction precision angular contact bearings. Work head speed is variable and controlled by AC drive.
WHEEL HEAD :
A variety of belt driven I high frequency spindles are available as per specific requirement be offered with different types of HF I bell driven spindles. The electric spindles also feature CNC controlled constant peripheral speed of grinding wheel will be provide optionally.
DRESSER UNIT :
The dressing unit consists of a single point fixed dresser which is capable of profile dressing as well as straight dressing. The dressing unit is also equipped with diamond rollerforcontinuous and reduced dressing wear.
CONTROLLER SPECIFICATION :
Fanuc Oi-TF grinding controller with auto refreshing, pitch error & backless compensation, G code & M code compatibility, electronic hand wheel.
Key Features RIG 250
Heavy Ribbed and Optimally analysed structure for best thermal and vibrational damping.
Seasoning Processed structure for lifelong Accuracy.
Precisely Handscrapped Guideways with Anti Friction TURCITE-B Coating for best Results.
Heavy Duty Workhead and Tail Stock.
SP Class Roller L.M Guideways.
Axis Movement through P class preloaded Ball screws.
Cartridge type Super Precision Spindles.
Complete Protection of guideways from coolant and grinding dust.
Custom Screen for easy operation and programming.
With Inbuilt Rough , Semi finish , finish grinding cycles.
Centralised Auto Lubrication System.
Grinding package of FANUC/ Seimens.
STANDARD FEATURES ACCESSORIES:
CNC package with operating panel and graphic display.
Diamond dresser stand.
Coolant pump with tank.
Auto lubrication unit.
Diamond dresser.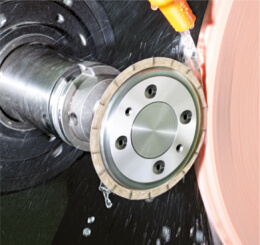 Diamond roller dressing device
Diamond roller dressing attachment for continuous and even wheel dressing , for stable dressing and reduced dressing wear compared to single point dresser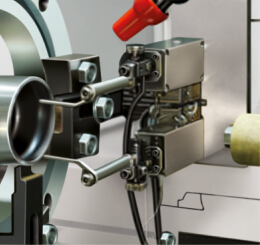 In-Process Gauge
In-process gauge for plain and uninterrupted grinding, for repeated and even dimensional accuracy
Hi-frequency spindle
Hi-frequency spindle for continuous power and torque output, for high rotational speeds without slipping seen in bell driven system.
OPTIONAL ACCESSORIES :
In process gauging for plain & Interrupted surfaces.
Servo Controlled C-axis (Work head)
Servo Controlled Radius Dresser (A-axis)
Diamond Roll Dressing Attachment With Spindle (Without Dressing Roll)
∅100 and ∅120 Internal Grinding Spindle (Belt Driven)
High Frequency Spindle (∅100, ∅120, ∅150)
Linear Glass Scale
Auto Loading & UN-loading System
Magnetic Coolant Filter or Paper Band Filter
Servo Voltage Stabilizer
Shoe Magnetic Chuck
Hydraulic Diaphragm Chuck Auto Door
Auto Door Arrangement
SPECIFICATIONS
Description
Unit
RIG250
RIG350
Max. Rotating diameter
mm
250
350
Max. Diameter of grindable hole
mm
150
200
Min. Diameter of grindable hole
mm
10
20
Max. hole length
mm
80
100
Max. component weight
kg.
20
30
WHEEL HEAD SLIDE (X·Axis)
Maximum Travel
mm
200
400
Rapid Feed Rate
mtr/min
10
10
Min. Increment/Pulse
mm
0.0001
0.0001
ServoMotorTorque
Nm
7
7
TABLE(Z-Axis)
Max. Travel
mm
280
310
Rapid Feed Rate
mtr/min
10
10
Minimum Increment/ Pulse
mm
0.0001
0.0001
ServoMotorTorque
Nm
7
7
WORK HEAD
Spindle speed (Variable stepless)
rpm
50-500
50-500
Spindle nose taper
No.
A2-5
A2-6
Swiveling range
Deg.
20
15
Motor Power
HP / KW
1.5 / 1.1
2 / 1.4
GENERAL
Total Power load
KW
10
12
Operation Voltage
volts
415+ 10 % AC 3 Phase
415+ 10 % AC 3 Phase
Floor Space
mm
2000 x 2500
2000 x 2700
Machine Weight
Kg.
2500aprox.
3000aprox.